Die Papierfabrik      ISBN 978-3-906112-33-6
La Cartiera (ital.)     ISBN 978-3-906112-35-0 (2nd edition)
Nebel über Durban ISBN 978-3-906112-09-1
Publisher and Distributor:
www.swiboo.ch @ Zumsteg Druck AG, Fritech-Park, Untere Grubenstrasse 1, 5070 Frick / Switzerland
Contact: Benjamin Zumsteg CEO, phone +41 62 865 40 94, b.zumsteg@zumsteg-druck.ch
swiboo.ch is an official publisher and member of the Swiss Book Association
La Cartiera (ital.)    ISBN 978-88-99509-16-3 (3rd edition with foreword of Giuseppe D'Angelo, professor of contemporary history at University of Salerno/I
Publisher and Distributor:
www.edizionipaguro.it @ Casa Editrice Paguro, Via Ferrovia 70, 84085 Mercato San Severino (SA)/Italy
Contact: Michele Citro CEO, phone 0039 089 821723, edizionipaguro@gmail.com
Edizioni Paguro is an official publisher and member of the Italian Book Association
Enquiries for book-readings in CH/D/A and other countries: get in touch via w.straehl@swiboo.ch (publishing director)
Enquiries for book-readings in Italy:                                             get in touch via edizionipaguro@gmail.com with Michele Citro (CEO Edizioni Paguro)
the fastest way-online-orders via http://www.swiboo.ch or www.edizionipaguro.it
the traditional way – at your bookshop, ask your bookseller!
the personal way – get a signed copy on following dates:
2017
in Switzerland:        Winterthur, 13th January, 6.30 pm, Sprachstudio Italiano – bella lingua, Römerstrasse 18
Lucerne, in March (time & location will be announced soon!)
Niedergösgen, 29th April, @ Restaurant Falkenstein – Private event
in Italy prospectively:
May                     Fiera del Libro, Castello San Barbato Manocalzati (AV)
June                    Spoleto, Casa Menotti
July/Aug            Raitolibri 2017
Sept                     Premio letterario nazionale Borgo Albori 2017
Sept                     Spoleto Art Festival 2017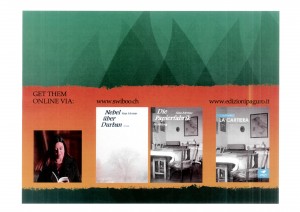 Books already sold to these countries: Argentina, Brazil, Dubai, France, Germany, Italy, South Africa, Spain, Switzerland, Tunisia, Uruguay & USA! 
About Nebel über Durban (Haze over Durban):
Ein Kriminalroman? A thriller?
Eine Liebesgeschichte? A love story?
Ein historisches Dokument? A historical document?
Ein Zeitzeuge der Apartheid? A witness to Apartheid?
Ein Griff in die Trickkiste? A handle to the bag of tricks?
Alles in allem – einfach fesselnd!!!
All in all – simply captivating!!!
(Werner Strähl)