On 3rd August the Pro Loco of Caposele (Italy, Pro Loco means a cultural community of the village) will present the 88th issue of the local newspaper "La Sorgente (The Source) at the sala polifunzionale (a multi-purpose room of the village). This newspaper was founded in 1973 and is of course online available too. But for the local people this newspaper is always a special event combined with a festivity and some of my relatives will take part.
Caposele is the hometown of my grandparents and as a child I was often there for holidays and I'm still in touch with the local people. Caposele is well-known about the source of the river Sele, which flows into the Tyrrhenian Sea and about the Apulian Aqueduct. In my first book "Die Papierfabrik" I wrote about the village and surroundings.
In this issue you can read an interview with me, conducted by Gerardo Ceres, one of the editors of the newspaper and some excerpts in italian of the book. I was very surprised discovering a lot of local writers/authors, so it was given in my genes the writing!
I feel very honored to be part of this artists gallery and contribute with my literature part!
Grazie mille di cuore, Gerardo, è stata una bella collaborazione! (From the bottom of my heart, many thanks to Gerardo, it was a great collaboration!)
Read the interview: www.issuu.com/lasorgente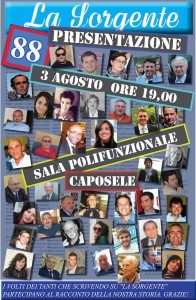 …and that's how it looks like: