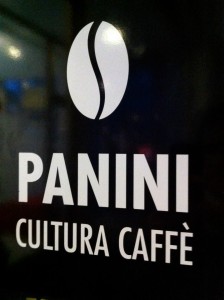 I decided not to read out of my book, as this is something the reader can do by himself. I told to the guests how the idea of this novel was born and developed over the years.
My editor and proofreader Werner Strähl and I were amused to tell to the guests some amusing points about my written sentences, how they sounded when he read them and called me in the middle of the night "hey Sina, but what the earth do you mean with these words? Please explain me!".
Or we revealed some secrets around the book (especially the cover), which made laugh a lot the guests. And I was very impressed, as Werner read out of the book with his strong voice…everyone was frightened ;o)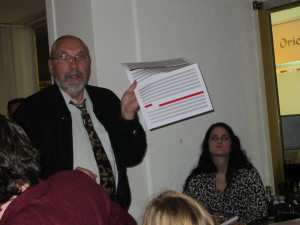 Werner explains to the guests, the rules of a book
coaster and the seed box; that's producing a book!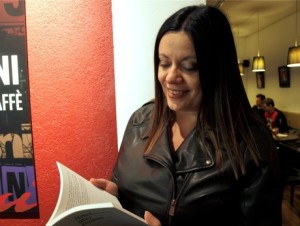 Proud of holding my new work in the hands.
Mille grazie, Guerrino/Werner, working with you was
a great pleasure and honour; you gave to my book
perfection and aesthetics.
Thanks to the staff of Panini-Bar for hosting us exquisitely &
you got the best "cioccolata densa" in town!
www.culturacaffe.ch